Who We Are
---
Sharrah Dunlap Sawyer, Inc. has been consulting Northern California since 1965.
Years of experience has earned us excellent working relationships with regulatory agencies, contractors, and the north state business community. Because of this, we know the economic, environmental, and regulatory challenges that impact projects in our state and the north state specifically. Time is money, and our team of professionals use their technical expertise, local knowledge, and connections to provide sustainable cost-effective design solutions.
Surveying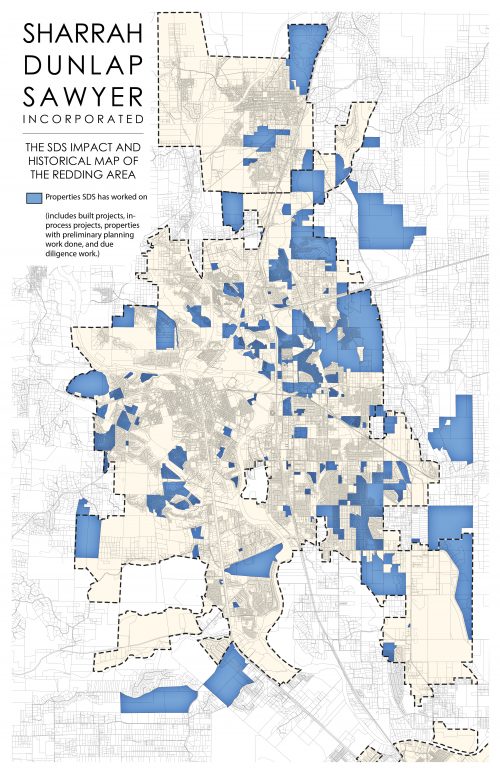 Our skilled staff uses state of the art equipment to produce surveys and maps for projects of all sizes. Our expertise includes:
Topographic and boundary surveys
Elevation certificates and flood surveys
ALTA/ASCM land title surveys
Property line adjustments
Parcel maps
Subdivision maps
Easement preparation, research, and analysis
Construction staking to establish horizontal and vertical control for construction projects.
Civil Engineering
Civil engineering is the backbone of our operation. Our engineers find solutions to whatever engineering challenges your project may face. We specialize in:
Feasibility studies
Phase 1 environmental studies
Regulatory permitting
Grading and drainage design
Hydrology
Water and storm water design
Roadway and utility design
Retaining walls and sound walls
Bid and construction administration
SWPPPs (Storm Water Pollution Prevention Plans)
Land Planning
Land planners specialize in preliminary concepts all the way to finished designs for properties of all sizes, and are an integral part of the team. From single parcels to master-planned communities, we take pride in producing sustainable and efficient designs that result in successful projects and satisfied clients.
Graphics
From entitlements and permitting to marketing and advertising, we offer a wide variety of presentation graphics to accurately and attractively convey your vision.
---